A new customer from South Africa made first order for 22-inch Viridan Aristocrat compatible monitor. The customer is a purchase manager from a South African company that provides electronic product solutions. He is helping his customer purchase touch monitors.
The customer made an inquiry from Made-in-China.com. The customer told us he needs two 22-inch monitors compatible with Viridan aristocrat. We sent product specifications to the customer and he confirmed the monitor can meet their requirements after checking the specifications. So we sent them quotations. Since we have not connected before, he was not sure about our product quality control and delivery capability, decided to place an order for only one unit. We totally understood his concern and started to prepare for the monitor delivery immediately. After the order, we actively followed up with the customer and maintained close contact with the customer. He placed another order for a second unit then. Finally, the two monitors were successfully delivered to the customer. The customer also gave us feedback about the two monitors. We are so happy that the test went well and the customer was very satisfied about it.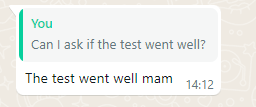 About Top One Tech
Founded in 2010, Top One Tech has been a global leader in touch an display technology and a supplier of touch and display technology, products and industry solutions since then. Top One Tech's product portfolio includes touch screens (mainly projected capacitive touch screens and infrared touch screens), touch monitors and touch all-in-one PCs to meet the stringent requirements of different industries including casinos, testing and measuring equipment, banking, industrial automation, medical equipment, point-of-sale, retail displays and transportation applications. Top One Tech excels at small-volume customization of touch screens, touch monitors, all-in-one touch computers. We are aimed to grow together with our customers and committed to satisfying our customers specified needs.