Top One Tech Shenzhen has moved to its new office this Monday (7th August 8, 2023). The new office is located in Longhua District's Zhiyun ONE Industrial Park, which is a grade-A office complex. The address is Room 2106, Building A, Zhiyun ONE Industrial Park, No. 13 Huaxing Road, Tongsheng Community, Dalang Street, Longhua District, Shenzhen.
The Shenzhen office staff started packaging and started to move from the previous office to the new office last week and finished the move this Monday. It's been three years since the last move. The last relocation was on September 28, 2020, which is the first year of the coronavirus pandemic.
During the three years from 2020 to 2022, affected by the pandemic lockdown, imports and exports were greatly blocked, and we also lost many opportunities to meet in person and cooperate with our overseas customers and partners. Since the country's prevention and control policy of the pandemic was relieved, we have ushered in new opportunities. Since the second half of last year, we have been actively preparing to expand our business and recruit more personnel. Now the previous office can no longer meet our requirements, so we have carried out a few more months of selection and finally found the new office that meets our requirements.
On Tuesday, August 8th, we held a housewarming ceremony in the new office. Executives, colleagues from headquarter and representatives of our partners also attended the ceremony and sent us congratulations. First is the unveiling ceremony, followed by group photo-taking. After the ceremony, there was a celebration banquet. At the banquet, the leaders expressed their recognition and encouragement to our Shenzhen team.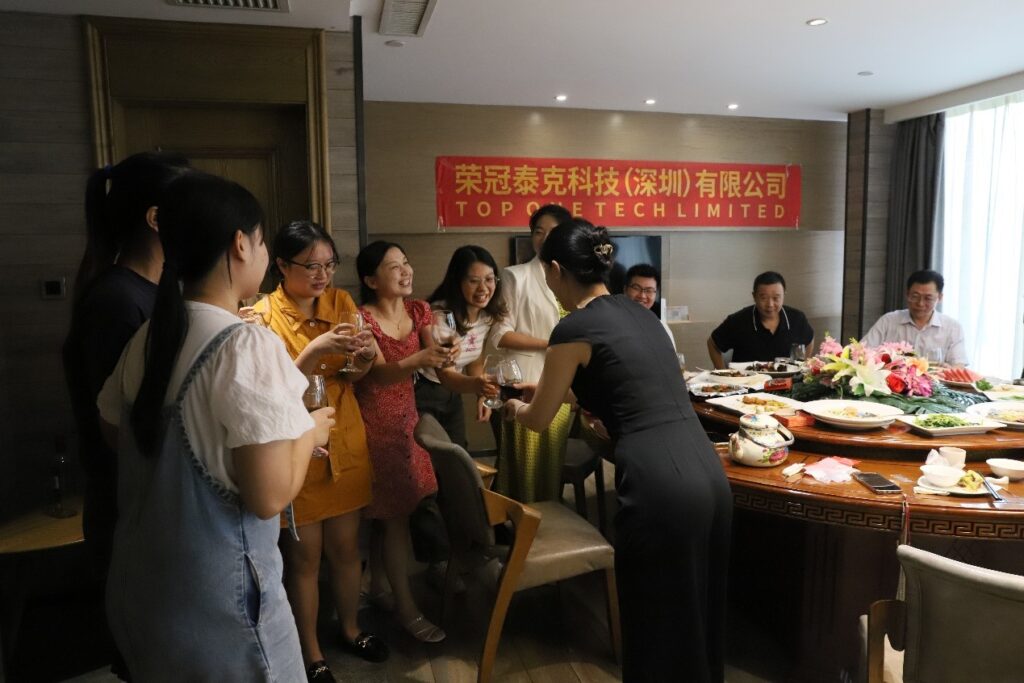 We expect our business to grow bigger and bigger, and develop together with our customers. We also welcome our customers and partners from home and abroad to visit the new office and our factories.
About Top One Tech
Founded in 2010, Top One Tech has been a professional OEM&ODM manufacturer specializing in the R&D, customization, production and sales services of touch screens, touch monitors and all-in-one touch computers that can be integrated with various machines that are used in multiple industries including casinos, banking, industrial automation, medical equipment, point-of-sale, retail and transportation, industrial equipment, KIOSKs, etc.
We generally can make touch displays for gaming machines like slot machines, roulettes, ticketing machines, etc. We accept small-volume customization requirements and we are aimed to grow with our customers hand in hand. Top One Tech also has a branch that can provide sheet metal product customization and production including metal cases, metal cabinets like slot machine cabinets, metal brackets, etc.