A kiosk is a small, movable, standalone booth placed in an area with high traffic. They can be found on the sidewalks of shopping malls, airports, dining places, etc. The word Kiosk derives from the Turkish word köşk, which was originally referred to as a type of open pavilion in Turkey and Persia that was frequently constructed on a hexagonal or multi-sided base. The full form of the word Kiosk is Kommunikasjon Integrert Offentlig Service Kontor, and Kiosk has become an acronym for a compact cubicle or area. A digital self-service kiosk's main purpose is to enable users to carry out some simple tasks independently, without the aid of a dedicated person. There are various types of Kiosks that are applied to different industries and scenarios. The most frequently seen kiosks are retail kiosks, information kiosks, check-in kiosks, wayfinding kiosks, etc.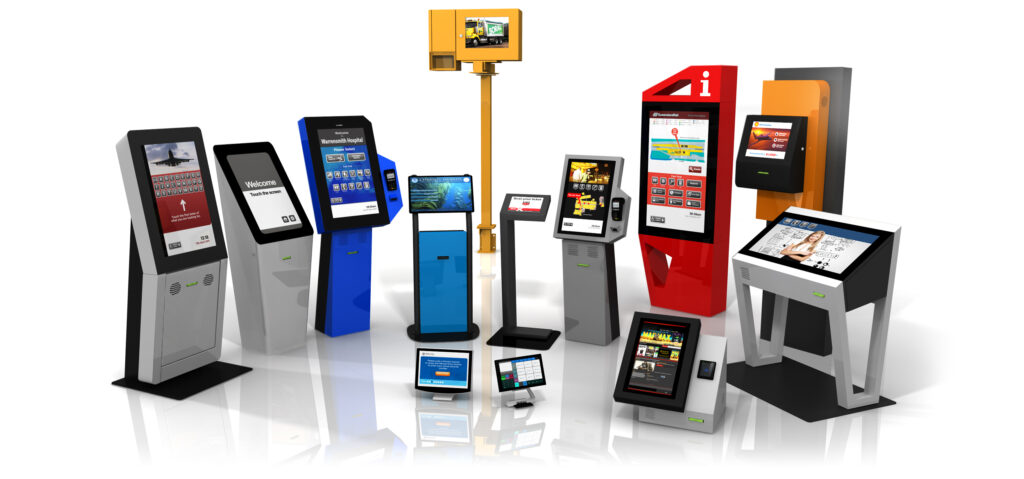 Retail Kiosks
Retail kiosks offer businesses a low-cost alternative to selling and advertising their goods or services, and they are typically found in shopping malls or on busy city streets with plenty of foot traffic.
Check-in Kiosks
A touch-screen check-in kiosk enables users to do self-check-in and make payments using credit or debit cards. The main locations for check-in kiosks are airports, government buildings, service centres, hotels, etc.
Informational Kiosks
An information kiosk is essentially an interactive or non-interactive kiosk that displays information and allows the customers to look up and check by themselves. Typical examples of information kiosks are those devices with touch displays available at your local library, government service halls, transport centres, etc.
Wayfinding Kiosks
Wayfinding kiosks assist users in navigating unfamiliar public areas by using directories, maps, etc. These information kiosks offer 2-D and 3-D maps to make it easier for customers to navigate around unfamiliar places and help them identify specific locations as well as nearby sites of interest. Schools, airports, shopping centers, office complexes, hospitals, museums, etc. are places where wayfinding kiosks are set up.
Food Service Kiosks
Food service kiosk is a self-service kiosk for food and beverage, allowing customers to interact with digital menus to browse, select, and order. Customers can also choose to pay for their items using electronic methods like credit cards and debit cards at restaurants or commissary kiosks.
Ticketing Kiosks
A ticketing kiosk is a digital device offering customers a self-service ticketing solution that can help businesses handle ticket sales and printing via an automated system instead of an attended service window. The ticketing Kiosks' goal is to enable customers to make purchases without having to wait in line to interact with a staff member, freeing up staff time for more important work.
Payment Kiosks
A payment kiosk is a particular kind of self-service kiosk that can accept a bill payment in exchange for a commodity or service. Payment Kiosks are mostly seen at airports, shops, government service halls, cinemas, utility companies, telecom companies, etc.
Photo Kiosks
A photo kiosk is a self-service or interactive kiosk that enables users to take and print photos as well as print digital images from digital media like memory cards or from online sources. Users can check the photos of pictures on the touch screen before printing them out. Some photo kiosks can allow users to make quick modifications and additions by operating on the touch screen or pressing the buttons on the machine.
Advertising Display and Digital Signage Kiosks
As they are frequently more eye-catching and effective than conventional signs or billboards, digital advertising kiosks are quickly replacing traditional signage as the new indoor and outdoor advertising form. Large-size digital displays are widely used for advertising to highlight products or services of various businesses. These commercials can be static or dynamic, non-interactive or interactive, with the latter allowing the user to interact with them by touching the screens. Advertising kiosks are typically located in high-traffic areas including airports, theatres, train and metro stations, busy streets, etc.
Internet Kiosks
Internet kiosks are often placed in public places with limited or no internet access to help people there connect to the Internet. These internet kiosks can be found in public places like libraries and airports, providing free or paid internet access.
Top One Tech is a supplier of touch screens, touch monitors, and touch all-in-one PCs. We are dedicated to meeting the stringent requirements of different industries including retail, public service, transportation, casinos, banking, industrial automation, medical equipment, etc. The touch screens and touch monitors can be integrated with a wide range of Kiosks. The subsidiary Top One Tech Metal can also provide you with metal cabinets of Kiosks customization and production services.